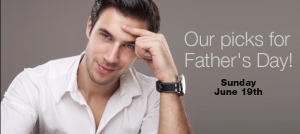 With Father's Day just around the corner, we're here to help you make some educated choices when buying fragrance for the big man. We know fathers can be notoriously hard to shop for, but fortunately, they can also be quite easy to please. Forget the socks and the hankies, and give Dad the gift of scent! Here are our top picks for Dad for June 19th.
IF HE'S A CHARMER
Most shudder to think of our folks as a hot-to-trot duo, but like it or not, Dad was most likely at one time or another a hit with the lay-deez! Help him revisit his days as a charmer and a stud with these smokin' hot scents …
Envy For Men by Gucci
- Just read the rave reviews. Perfect for romance and big nights on the town. Ginger, musk, amber, nutmeg and patchouli make for an exciting night out that's brimming with promise.
Attitude Extreme by Giorgio Armani
- Lightly spiced with nutmeg, amber and aromatic coffee, Attitude Extreme is a feel-good fragrance with a comforting blend that simply begs to be cuddled up to!
IF HE'S OLD SCHOOL
So what if he has a wardrobe full of woolen vests, still drives a 1987 Volvo, or thinks perfume is for girls … Dad's still gotta smell "the business," right? Here we've listed some of our top recommended fragrances for the conservative Dads among us …
Eau Savage by Christian Dior
- Following the footprint of traditional men's colognes, Eau Savage is an iconic aromatic blend of citrus and herbs. A versatile cologne for every day or special occasions.
Drakkar Noir by Guy Laroche
- For Dads who know what they like and like what they know. Drakkar Noir is a powerhouse blend of citrus, lavender, spices and sandalwood. Robust masculinity at its finest.

IF HE MEANS BUSINESS
Whether he's a force to be reckoned with at the office or an absolute corporate king, Dad will appreciate these sophisticated fine fragrances. Try one of these and watch Dad's "cool stock" fly!
Baldessarini by Hugo Boss
- Classy and refined, Baldessarini is at the apex of the Hugo Boss brand. Notes of pine, precious woods and tobacco make for a scent every bit as sophisticated as a finely cut suit.

Pour Homme by Dolce & Gabbana
- Bold. Robust. Commanding. Everything a businessman ought to be! This elegant blend of citrus, pepper, cedar and tobacco will turn heads and demand attention.

IF HE'S SPORTY
So Dad likes a bit of rough 'n' tumble? Football, fishing, racquet-sports, motor-racing … give him the gift of glory with these top picks for the energetic go-getter, or armchair athlete!
Roadster by Cartier
- An opening blast of cool spearmint and zesty bergamot feels just like driving with the top down! Roadster is a crisp, herbaceous woody blend that is spirited and energetic, and will race Dad through the checkered flag and across the finish line!

Boss in Motion by Hugo Boss
- This zippy citrus scent is a knockout. With top notes of crisp orange and green leaves, and a heart of pepper and cinnamon over a woody musky base, this scent just oozes dynamic appeal! Its striking silver ball-shaped flacon is as sporty as it gets.