There are just some products we can do without, but facial products are just NOT one of those things. Products for face have such a wide range of variety, in scent, texture, and it's specialty for use. Here we go with our top 5 favorite facial products we really can't get enough of.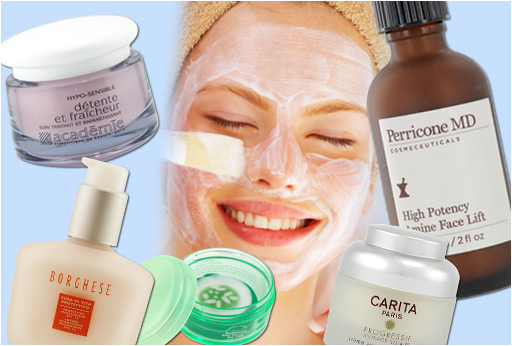 Let's start it off with the lightweight, protective moisture lotion Borghese skincare. This lotion or 'protective fluid' has SPF 15 in it to protect from UVA & UVB, plus it hydrates and moisturizes your skin ALL DAY LONG. Most lotions say they moisturize all day long but this may be the only one that truly does. Thank goodness we came across this one!
While we're on the subject of skin protection (and care), we can not get enough of this newly discovered after sun crème by Carita skin care. This one not only instantly soothes, nourishes, moisturizes skin after it's been in the sun, BUT it gives skin an even, lasting tan. What more can you ask for? That's right, you can ask for it to correct the effect of time and regenerate mature skin, but not to worry, it does that too! So back to what we were saying, it's way too good to be true!
Need a refreshing treatment that will calm irritation on sensitive skin? Try Academie's hypo-sensible refreshing treatment formulated with innovative and performing active ingredients that work on blood mirco-circulation to calm irritation. Sound scientific? All you need to know is that it prevents and reduces signs of cutaneous discomfort AND most importantly, leaves skin soft, supple, and comfortable. Feel good in your skin!
Get cool and comfy with Caswell Massey's cucumber eye pads for cool as a cucumber eyes. These cucumber eye pads feel amazing after a hard workout at the gym or a hot shower. These pads will help reduce those dark circles under your eyes and make you feel refreshed and revitalized.
Want the face lift without the needles and getting under the knife? There is a solution for that and it goes a little something like this. High Potency Amine Complex Face Lift by Perricone MD will create a more elegant, chiseled, smooth appearance for your face while minimizing deep lines and wrinkles. This lotion makes skin feel tighter and makes it appear healthier and renewed. If you're looking for a tight, luminous, wrinkle free face, may we suggest you try Perricone MD's Amine Complex Face Lift.
So what is your favorite facial product you can't get enough of?