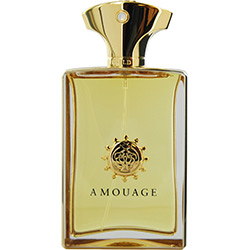 Omani perfume pedallers Amouage sure know how to bring the luxury! Their astonishing perfume portfolio is bursting at the seams with scents full of components both rich and rare. Few houses explore opulence and excess in the same fashion as Amouage does... so what better name to bestow upon one of their most notable masculine creations, than Gold?
Amouage Gold for men is loud, self-assertive and unapologetic. It exudes a commanding aura that elicits your attention. Blended in a time-honoured style very much in keeping with Middle Eastern perfumery, Gold man is a titanic floral musk scent that you will quite literally smell at 10 paces! Rose hip, lily of the valley, orris and jasmine make for a daring flowery opening, whilst myrrh, leather, incense, mosses, musks, civet and precious woods provide the sturdy backbone upon which Gold is built. When its dazzling florals and woody notes recede over time, they reveal a powdery, soapy quality... one which feels clean and very dense. Amouage Gold has monumental sillage, and will last the better part of an entire day.
This fragrance is suitable for any time of year, but one would have to be choosy about where it is worn. But if its a grand statement and maximum impact you'd like to make, the Gold delivers on all counts!