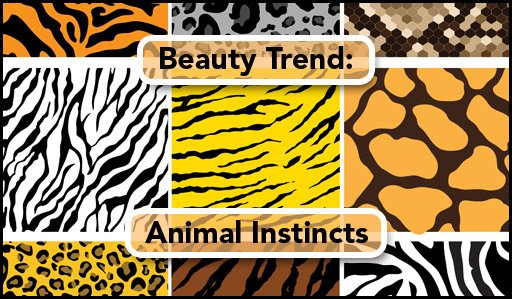 It's a popular growing beauty trend that is showing up on nails, eyes, and even in your hair! Animal print is no longer just a printed fabric, it comes in all shapes and sizes to fit your taste in beauty today.
Consider this. Zebra striped nails, or how about a cheetah print design? Beauty manufacturers are making these trendy nail prints easy as can be. Take Sally Hansen's nail stickers for example, they are simply amazing to create a chic look with no effort at all. Literally peel, stick, and file. Getting a trendy nail look has never been this easy, so easy!
Now consider this, leopard print eye shadow. This one is not so much an easy task, yet more of a process, but after the process is complete, the final look is...well, ferocious! Get stunned at tons of video tutorials on how to get the gorgeous eye look.
Lastly, let's take a look at some animal print hair. Lately, some wacky and weird trends have been emerging with hair extensions, and this may be one of the weirdest, but we just had to share it and show it off to you! Forget the feather extension or pink hair strip clips, cheetah/leopard print hair is the 'new black'. Check out this DIY cheetah hair tutorial and let us know what you think?
What animal instinct beauty trend can you see yourself wearing most?