Nails are a big to do this season, and when you are showing off your nails, it's not just the nail that matters; caring for your cuticles is important too. Many people have different ways of caring for their cuticles, one of the most common ways we know are to just push them and cut away. However, what you may not know is that this is one of the worst things you can do for caring for your cuticles. You should never bite, push, cut or peel your cuticles. Rather than ridding them, treat them to be healthy and beautiful, because after all they are part of your nails.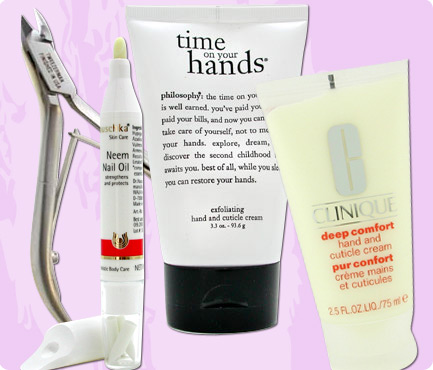 First start with an exfoliating hand & cuticle treatment cream, like Philosophy's Time on Your Hands . This hand and cuticle cream heals sun damaged hands, dry cuticles and works incredibly fast to reveal it's desirable effect. It leaves hands and cuticles incredible smooth.
If for some reason you prefer not to use Philosophy products, there are plenty of other cream brands you can use, like Clinique. Clinique, we know, is one of everyones most favorite skin care line and we can totally get why! This Clinique Deep Comfort Hand and Cuticle cream is long lasting and will keep your cuticles and hands hydrated for 12 hours, talk about great quality!
Now before you go ahead and call us hypocrites, we still are sticking to our word to not push back and trim your cuticles, HOWEVER, if you use a cuticle nipper, like the Tweezerman one we have, to use to cut a hangnail, we're all for it! Anything to keep your nails healthy and clean, we're all for it, but to push back and trim away those cuticles, no, no, no.
Lastly, a personal fave of ours, the Dr. Hauschka nail oil pen! This handy dandy pen is awesome; it comes with a felt tip applicator, so it's perfect to throw it in a bag and go. This oil is perfect for a simple and easy daily treatment to strengthen and clarify nails, promote healthier growth and softer cuticles, as well as enhances keratin to strenghten soft or brittle nails. That what we're talking about! Beautiful, strong, healthy nails for all year long!