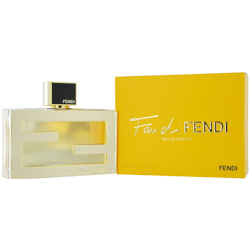 Italian fashion giants Fendi have been wowing fashionistas and fragophiles for decades with their striking silhouettes, materials and fine perfumes. Fan di Fendi, launched in 2010, represents yet another feather in their heavily-monogrammed cap!
Right out of the gate,
Fan di Fendi
smells expensive. It resides in the same universe as Chanel's Coco Mademoiselle... a fruity floral scent with depth, sophistication and complexity. The opening comprises pulpy tangerine, pear and juicy blackcurrant that stew over a nucleus of opulent jasmine and rose. It feels flirty and vivacious, but classy and well-mannered at the same time. A glimmer of carnal tuberose and a patchouli / leather facet suggests that this kitten, in fact, has claws; revealing something of a darker side.
Fan di Fendi
is two parts Urban Chic, and one part Femme Fatale. She dances along the line between straight-laced compliance, and Va-Va-Voom! A perfume for informal occasions and romantic nights. The flacon itself is made of heavy glass, flanked by two iconic "F's". It is uniquely chic, uniquely Italian, and uniquely Fendi.