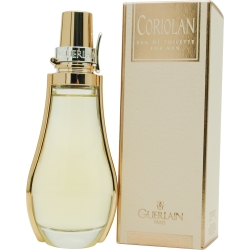 French perfume royalty Guerlain have explored many war-inspired themes in their vast 185 year history – from the iconic 'eagle flacon' of Derby (which was said to be inspired by Samurai armor), to the beating drums of surrender in Chamade. But perhaps the most literal to date has been Coriolan; a masculine scent inspired by the famed Gaius Maximus Coriolanus, a Roman general who went to war in the 5th Century BC.
Coriolan was launched in 1998 in a flacon of glass and copper-coloured plastic intended to emulate the shape of an antique gunpowder flask. The scent itself - a tribute to raw masculine energy - is a woody chypre. It captivates with its classic topnotes of lemon, lime and petitgrain, but takes an unexpected turn moments in, as it veers off with supporting notes of sage, fennel, nutmeg, ylang-ylang and coriander. A very unique, aromatic blend, Coriolan is underpinned by a base of patchouli, leather, amber, vetiver and mosses. It feels vast, as if marching across open fields with a clear firmament overhead. There is an autumnal quality too, which suggests crisp air and the crunch of copper-coloured leaves underfoot.
Coriolan is a surprising masculine which breaks away from convention and forges new territories, much like the war hero it was named after. It has remarkable longevity, and is excellent for both casual or formal wear.