In an expanding series of unisex 'Collection Jardin' fragrances, Hermes added a fourth scent to their collection in 2011, namely Un Jardin sur le Toit (A Garden on the Roof). The name and perfume itself is a reference to the striking and luxurious garden that can be found on the rooftop of the Hermes flagship store in Paris, at 24 Rue du Faubourg Saint-Honore.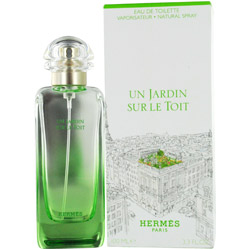 Perfumer Jean Claude Ellena took a stroll through the garden and wished to capture the odors of abundant green. The rooftop is covered in aromatic herbs, fruits and flowers – many of which have made their way into this sun-drenched scent.
Un Jardin Sur le Toit feels somewhat linear from top to bottom. It has a mouth-watering opening of juicy pear and crisp red apple that can be felt right into the drydown. A scattering of rose and magnolia give rise to a sense of femininity, although the perfume's gender is kept in check with earthier notes of green grass, basil and compost.
This eau de toilette has an uplifting, invigorating quality that serves as the perfect pick-me-up in the warmer months, or when one craves a little sunshine throughout winter. Beautifully composed, and presented in a stunning flacon of graded green, Un Jardin sur le Toit is one to be experienced.