The dark color is a hit for sure and we have plenty of proof to back it up with the recent event, one of the biggest in the fashion industry, the Met Gala, where tons of celebs and fashion industry pro's played off that dark lip, oh-so-well. We've scored two of our favorite 'burgundy' beauties and couldn't help to indulge ourselves.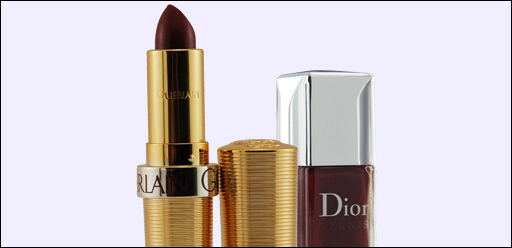 You can wear the burgundy color on your lip for a dark, goth look that was similarly worn by Camille Belle and Jessica Alba, our two personally favorite dark lipped babes. Get the look by getting a quality dark lip color, Guerlain's Kiss Kiss Pure comfort lipstick (with SPF10 too) in brun moka is the perfect plum-per color that glides on effortlessly for a pretty pout. Make sure to apply it on a moisturized lip and line the lip so the dark color doesn't feather.
Can't nail the lip color trend? Nail it, literally. Paint it on and go a bit dark on your own 10 tips. Apply a base coat, two to three layers of the burgundy color, we love Dior's vernis icone nail lacquer, and of course apply a glossy top coat to complete the look.
Are you completely obsessed with this beautifully hued trend?