Hugo Boss seem to have cornered the market with their inexpensive masculine scents that have wide mainstream appeal. I've seldom seen a college dorm or high school dressing table without at least one Boss bottle! Hugo Element, launched in 2007, exemplifies the 'fresh, cool and clean' genre that appeals to the teens and twenties of today.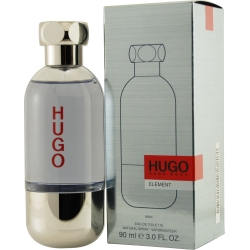 Element was created for the young urban man – a social guy with his friends, his sporting pursuits, his outings and his mobile devices. Composed of aquatic accords and citrus, Element is a go-to eau de toilette for a guy on the move. Crisp ginger, green vetiver and clean musks all add to that 'just-stepped-from-the-shower' vibe.
This fragrance is excellent in summer, or for daily wear when being active. Casual, energizing and fresh.