Design House: Lacoste

Year Introduced: 2005

Fragrance Notes: Black Currant, Rose, Tomato Leaf, Sandalwood, Citrus, Patchouli, Black Pepper

Recommended Use: Everyday, Casual

Scent Life: 6-10 Hours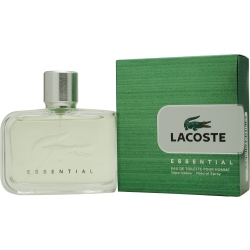 A light, citrusy scent that dazzles year-round, though truly flourishes in the summer, with its hints of sandalwood and rose. With the strength to last the course of a day, yet not in the least overpowering, Essential essentially frees you from the fear of headaches or eye-rolling that comes with over-application. Anchored in an always en vogue lemonish base, the aroma fits well in any boardroom, though it's patchouli undercarriage carries a slightly rebellious connotation as well.