Designer Reem Acra, well known for her gorgeous red carpet and bridal gown dresses, has now given us yet another reason, another design, another luxury to drool over. This time, it's with fragrance.
In the Lebanese designer's first fragrance efforts, she mentions to WWD in an interview that one of her main focuses was to incorporate her heritage.
"Fragrance, after fashion, tells the story of a brand," Acra told WWD. "I was waiting eagerly for this moment, because I had something in mind. Basically, I think this fragrance is special because it's not a made-up story. It's my life story. Amber has been part of my homes since I was a little kid — we used to collect it [in Lebanon.] Peonies are my favorite flower," she gestured to a large bouquet — "and every morning I drink orange blossom, steeped in hot water, to relax."
The scent is set to launch in October. The scent has top notes of orange blossom, pear and bergamot; a heart of ginger, jasmine, lily of the valley and blooming peony, and a drydown of amber, cedarwood, patchouli and warm musk.
What do you think of Crystal Renn in this gorgeous ad campaign shot by Tom Munro.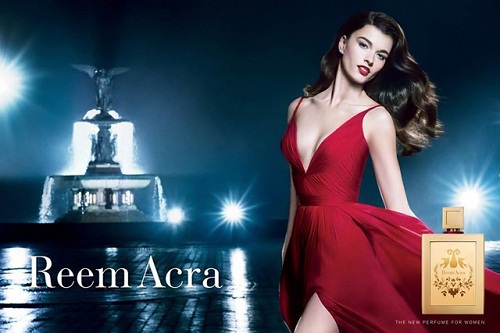 Photo Courtesy: WWD; Reem Acra
Shot by Tom Munro