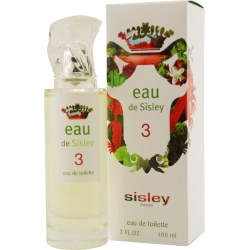 As far as perfume is concerned, the d'Ornano family at the helm of the Sisley brand, have always managed to command the senses with their scented creations. In 2009 the French aromatics and phytocosmetology giants launched a new trio of fragrances under the Eau de Sisley umbrella, simply named 1, 2 and 3.
Eau de Sisley 3 is a standout in the trio, and a scent intended for both men and women. It opens with a rush of citrus: lemon, bergamot, mandarin and grapefruit... it is fresh and effervescent right out of the bottle. This opening is accompanied by a sharp, brisk ginger note which becomes a dominant feature. Number 3 is imbued with swathes of breezy osmanthus, green vetiver and musks. Lovers of Issey Miyake's 2004 release L'eau Bleue d'Issey will potentially encounter a similar journey here, as Sisley takes us to the sun-soaked Mediterranean. Whilst not listed in the notes, Sisley 3 has unique characteristics that bring to mind the odour of damp cypress, tree sap and pine needles. It tenders a sense of cool, crisp green, and is full of abundant sunshine.
Sisley 3 is excellent for summer days and nights, or in casual situations. It can be worn with mad abandon, and remains in keeping with other Sisley fragrances... that is, it evokes a sense of nobility, but in a far more relaxed manner.