Of all the hues to wear, besides red, orange is a 'harsh' tone to work with on many skin tone types. But it doesn't have to be this way, there are ways you can fit the bright hue into your every day beauty, and what perfect timing with the summer season on it's way! Make your life more interesting and read on to see how you can really make your eyes pop this season by wearing the bright hue on your eyes.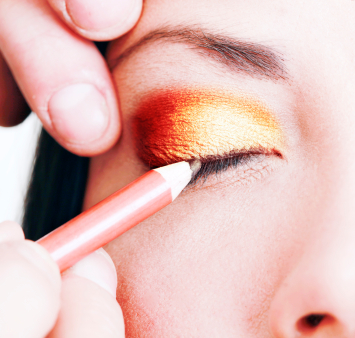 EYES
It's sounds a little bold & daring, but it's a great color, especially for blue eyes-- it's a great complimentary color!
Apply a white base shadow and blend towards your brow bone

Pat a metallic gold on the inner corner of your lid

Next, apply the bright hue the mid and outer corner of your lid, blending it with the metallic gold color


Line the lid with a brown or black eyeliner, gliding the liner as close to the lashline as possible

Take a face powder or nude shadow color and apply to the browbone and blend down

If you'd like to define your crease, blend a bronze or brown shadow from your crease line and blend outward

For more eye brightness, line the lower lash line corner with the orange hue and line the rest of your lower waterline with the brown or black liner you lined your upper lid


Apply mascara to your lashes and curl your upper lashes for even more definition.
Would you wear this hue on your lids? Which product would you pick?