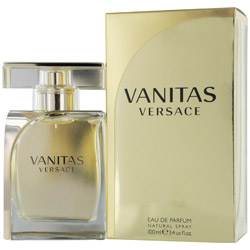 Since Gianni Versace's tragic murder in 1997, ownership of the Versace brand was kept in the family with control promptly turned over to Gianni's siblings, Santo and Donatella. Since then, the Versace legacy has been preserved and the iconic fashion house continues to produce fashion, accessories, homewares and perfumes that capture the eye and rouse the nose.
Vanitas
is a soft feminine scent, launched in 2010. Presented in a rectangular flacon with swathe of gold over its shoulder, Vanitas is prettiness personified. A delicate flight of rose and blushing freesias send the scent into an orbit of flowers... a feminine heart of sheer osmanthus and tiare blossoms add more satiny girliness to the composition. A hint of black tea and cedarwood in the trail manage to ground this lovely, sunny perfume. Its hushed, delicate nature can be nothing but feminine. Understated and charming, Vanitas is a great go-to scent for summer days.
Despite her apparent weightlessness and transparency,
Vanitas
stays on skin for 5-6 hours. A smart/casual solution for women who are young, or young at heart.