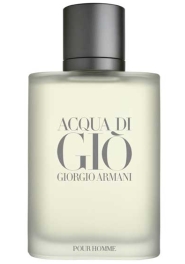 The popularity of men's fragrances has risen over the years. It's not just
Old Spice
and
Stetson
for men anymore (although Old Spice did make our list). The playing field has certainly expanded when it comes to men's fragrance.
In 1997,
Giorgio Armani
introduced
Acqua Di Gio
, which quickly became a favorite for men. Notes of citrus, rosemary, spice, jasmine and woods combine to create a fresh, aquatic scent inspired by the ocean breezes of the Mediterranean. Veering off the beaten path of traditional masculine fragrances, Acqua Di Gio was one of the first fragrances to depict contemporary masculinity.
Ah,
Cool Water by Davidoff
. The quintessential boyfriend fragrance. Girls everywhere were out buying Cool Water for their boyfriends in 1988. Cool Water is heralded for its intriguing blend of peppermint, rosemary, orange, jasmine, sandalwood, oak, cedar and amber. When it first arrived on the market, its twist on aquatic fresh was a true head-turner, different from most other men's colognes at the time. It remains one of the best-selling fragrances to date.
Ralph Lauren Polo's
iconic green bottle with the horse adorned dressers everywhere in the 1980s, and still should. Much like anything Ralph Lauren creates, Polo cologne is a true American classic. Tween boys were slathering on Polo long before they should've been, given the scent's masculine leather and tobacco notes; those same notes are what make it a must-have fragrance for men today.
Issey Mikyake's L'Eau d'Issey Pour Homme
was launched in 1994, two years after the women's perfume proved a fragrance hit. L'Eau d'Issey Pour Homme should be a staple for any sophisticated man who appreciates style. Warm notes of amber tobacco mesh with fresh and spicy notes of tangerine, cypress, nutmeg and sage to create a truly tantalizing fragrance for men.
Laugh if you will, but the joke is on you if you scoff at
Old Spice
. Sure, Old Spice became synonymous with the smell of dads everwhere, but haven't you learned not to underestimate dear old Dad (and his dad before him)? Those men knew what they liked. Men everywhere should have a bottle of Old Spice, which is why the makers
kicked off a new Old Spice web campaign
that launched a marketing frenzy.
Old Spice is a timeless classic, but somehow the latest generation got the wrong message about it -- until now. Old Spice gets its masculine greatness from a near-perfect blend of citrus, flowers, vanilla and cedarwood.