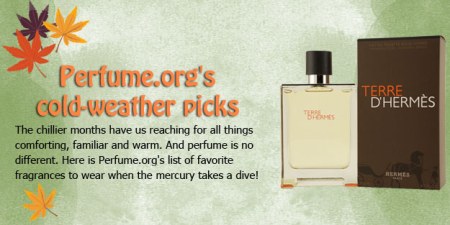 There is something to be said for the onset of winter. As the days draw in and the temperature plunges below freezing, there is a real sense of melancholy in the air.
I often enjoy strolling outdoors at this time of year, taking in the smells of the neighborhood and being a part of a bleak landscape painted in hues of gray and midnight blue. The colder months tend to have me reaching for all things that are comforting, familiar and warm. And perfume is no different.
Here, we've compiled a short list of fabulous fragrances for both men and women that are cozy and informal, and are perfect to wear when the mercury plummets below zero.
FOR THE LADIES:
Youth Dew Amber Nude by Estée Lauder
This creation - overseen by Tom Ford - is a modern twist on a rich, opulent classic. Youth Dew Amber Nude is a soft amber floral with fresh tea, magnolia, ginger, black rose, jasmine, red carnation, and boasts one of the most enjoyable autumnal dry downs of patchouli, amber and dark chocolate!
Flowerbomb by Victor & Rolf
Lavish in the cotton-candy gourmand lusciousness that is Flowerbomb this winter! A tender opening of bergamot and beautiful florals including jasmine, freesia and rose, linger over a delicious patchouli vanilla heart.
Opium by Yves Saint Laurent
A resolutely timeless perfume, YSL's Opium is still a smoldering blend of exotic florals and lush, ambery resins… its sumptuous, rich and complex heart of incense and spices will bewitch and bedazzle as the weather takes a turn for the worse.
Insolence by Guerlain
There are few fragrances that evoke a tender moment of reflection quite like Guerlain's Insolence. Delicate notes of violet, rose, red berries, dry iris, creamy tonka bean, sandalwood and musk will envelop you like a soft cashmere blanket, and evoke fond feelings of nostalgia and remembrance.
FOR THE GENTS:
Fahrenheit Absolute by Christian Dior
Here, the masculine Dior favorite Fahrenheit has been reinterpreted and the volume turned up to 10! With sensual notes of violet, oud, sandalwood, incense and myrrh, this is the perfect scent to wear out on a date, or at home in front of a cozy fire!
Terre d'Hermes by Hermes
Terre d'Hermes is the smell of a thunderstorm, shimmering citrus fruits and freshly turned earth. Its earthy and elemental blend of grapefruit, pepper, geranium, cedar, benzoin, patchouli and vetiver has won accolades in the industry, and will win you over too!
London for Men, by Burberry
Burberry London is the ideal perfume to wear out in nature listening to the satisfying crunch of dried leaves underfoot. A solid composition of cinnamon, pepper, port, mosses, leather and tobacco leaf makes for a robustly masculine scent that many will admire.
M7 by Yves Saint Laurent
There is nothing shy and retiring about M7! Feel the rising warmth summoned by notes of mandarin, amber, mosses, oud and other precious woods. Perfect for romantic nights out.
So, as you begin pulling your winter coats and scarves out of storage for the season, spritz on something reassuring and warm - just to see you through until the vibrant colors and aromas of spring are around us once more.