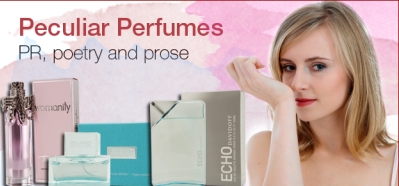 For decades, many mainstream perfume releases have relied on million-dollar advertising campaigns in support of a new launch. In a struggling global luxury retail market, every company is striving to stand head and shoulders above their competitors using any means possible, and for many, the marketing and PR departments are working overtime to lure your nose into making a purchase.
Sometimes though, I truly wonder what the creatives in some of these houses are thinking when they conjure new ways to describe their perfumes. Descriptions of individual accords and facets sometimes border on the absurd. Could it be that perhaps the marketers and PR teams have been accidentally sniffing at the 'fumes market with a tiny jolly-roger logo?
Whatever the truth, here we have compiled a brief catalog of niche and designer perfumes with peculiar notes, as described by their marketing visionaries.
Comme des Garcons
- Odeur 53
The world's first anti-fragrance (1998), using 100% synthetic aromatic accords of oxygen, a flash of metal, fire energy, washing drying in the wind, sand dunes, ultimate fusion, mineral intensity of carbon, burnt rubber, the taste of a chrome pipe on your tongue, and flaming rocks. Um, we're speechless.
Etat Libre d'Orange - Sécrétions Magnifiques
If the thought of a perfume comprised of blood, iodine, turned milk and semen turns your tummy, then steer well clear of Sécrétions Magnifiques - a malodorous concoction of metallic, ammonic nastiness that will most certainly have you thrown out of any fine-dining venue! Sample only for the novelty value. Speaking of blood and semen, pop star
Lady Gaga has stated that she wants her signature perfume
to consist of the same notes.
Marc Ecko - Ecko
You might want to be wearing rubber shoes when trying this one… the press release mentions both a "lightning accord" and a "static accord" - each of which I can only assume makes this perfume electrifying. Still, it leaves one to ponder what exactly static and lightning are actually supposed to smell like.
Calvin Klein - Crave
It might interest the good folk over at PETA to learn that Calvin and co. list starfish as an opening accord in Crave! Sounds a bit fishy to me. Boom *tish*!
Thierry Mugler - Womanity
Speaking of fish, I don't think any woman should be asked to smell of it, but here we are with Monsieur Mugler's latest creation Womanity, which features an overwhelming overdose of fig and a starring accord of caviar. Of course we "get" the well-heeled associations of eating the stuff, but dabbing the essence of sturgeon's eggs behind the ears is not what we'd consider an instant turn on. Unless, of course, you're a sturgeon.
Michael Kors - Island
Lo and behold, here Michael Kors has allegedly bottled the 151-foot high Opaeka'a Falls in Hawaii … what a feat! Not only that, he has also memorialized the smell of oxygenated water that he will have us believe differs greatly from the smell of regular water. Which… to my nose at least, is absolutely odourless.
Narciso Rodriguez - For Her (EDT)
I've always been a fan of this perfume, but frowned at the poetic inclusion of solar musk. Solar musk? I don't know about Señor Rodriguez, but at high school I learned that musk came from the butt of a deer … surely a spot where the sun don't shine.
It seems the advertisers and marketers will continue to rhapsodize about a perfume's composition - perhaps not as a bard would, but more like a used car salesman might. On the positive side, I'm sure we can all appreciate some comedic relief.
After all, where is the appeal in promoting perfume as scented molecules suspended in alcohol?