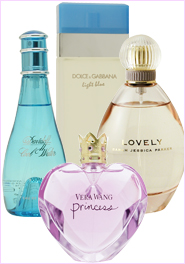 For millennia, perfume has been intended as a means to scent oneself, and has evolved from primitive oils and salves made in ancient civilizations to the modern "headspace technology" synthetics and
essences that perfumers
use in their palettes today. One thing is a constant though, and that is the way in which perfumes are presented -- in beautiful flacons that speak of the enchanting elixirs within.
The perfume bottle is now routinely considered as important as the juice it carries inside, as perfumers have strived for centuries to visualize and make tangible the perfect receptacle for their scented creations.
In the 18th and 19th centuries, beautiful hand-blown painted glass vessels or cut crystal decanters were the norm and remain to this day an icon of their time. In recent history, perfume has been presented in flacons of exquisite craftsmanship and quality by glass and crystal-making greats such as Lalique, Baccarat, Pochet et du Courval and many many more.
One thing is for certain … many perfume bottles have penetrated the global psyche and their sculptural forms are now instantly recognizable, even without their labels.
Consider for a moment the uniqueness of
Chanel No.5
,
Shalimar
,
Angel
,
Arpege
,
Le Male
and others from both historic and contemporary times. Their iconic appearance lingers in the mind long after their smell has evaporated from the wrist.
In many cases, form has often won out over function as perfume houses battle to take their bottle designs to new heights.
Packaging and design play a very important role in how a scent is marketed and received by the end user. Fragrance fanatics clutter their dressers with perfume not exclusively for the scent, but for the stunning bottles that carry it.
It is true the art of the perfume bottle is indeed an art alive and well today … we follow the same trajectory as was followed in ages past, and that is to conceive and create extraordinary perfumes and introduce them in flacons of rare and unequalled beauty.